Day Eighteen: Bolivia
Dry land and solid ground, two things that probably feel a bit unusual to our team currently. After a monumental effort rowing and swimming through the Pacific ocean, we landed on the skinny shores of Chile, one of South American's most economically and socially stable, prosperous nations. Travelling a modest 1204km, we came slightly behind target today – but still way above on the whole challenge. Alison Brown was the top ride, with 99.8km, agonisingly deciding not to cover those last 200metres to make it a round 100km!
Due to the relatively short width of Chile, we ended up of the day in the heart of Bolivia, passing through the famous Salar de Uyuni, the worlds largest salt flat covering 10,000km (light work for our crew!) And now we're taking it easy with a gentle cycle on the infamous 'Death Road'.
North Yungas Road
North Yungas Road, or more famously Death Road, is the most dangerous road in the world. 64km of pure adrenaline, sheer cliffs and gut-wrenching bends, Death Road claims the lives of nearly 300 travellers every month. Built in the 1930s by Paraguayan Prisoners of War, the narrow path is only really wide enough for a single vehicle at most points and connects the capital La Paz and northern parts of Bolivia. The blind corners, narrow roads and steep ravines are what makes the journey so dangerous and naturally attracts thrill-seekers and adrenaline junkies, mainly in the form of downhill mountain biking. This would be a thrilling way to tick of some KMs!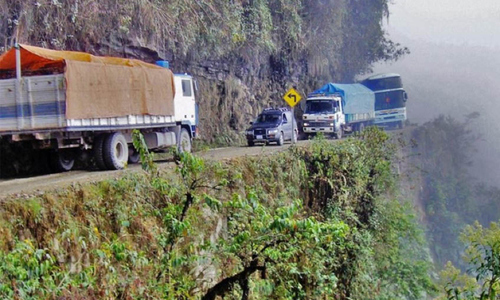 Cycling
Most of the virtual journey has taken place via cycling, but it's not something we've actually covered in the blog yet – somehow! Cycling is a fantastic form of exercise, being accessible, easy for all ages and with varying levels of difficulty to suit anyone. Cylcing is a low-impact sport meaning you're less likely to injury yourself, it's also a great way to get around – if you switch your daily commute to cycling you can stay healthy and still get to work on time.
Get in the car, sit down, sit in traffic, get other drivers cutting you up, park, walk into work.
or?
Get on your bike, exercise, speed past grid-locked traffic, feel great and start your day!
Ultimately, cycling is one of the best ways to stay fit. We've been out and about on our bikes for the past few weeks, aswell as using a variety of static options at home. Here at Elevate we have multiple cycling machines which are incorporated into a lot of the exercises, lives streams, boot camps and personal training sessions. If you'd like to know more, keep updated with us here or on our social media pages.
Key statistics
Distance Travelled: 30757km
Journey Finished: 74.88%
Money Raised: £7,514
Countries Visited: 20 Countries
Day 18 Leader Board
Alison Brown – 99.8km
Dan Cumberworth – 86.26km
Neil Tandy – 68.39km
Find out more
Do you think we can do it? Please support us and donate to the Just Giving page here.
Keep updated along the way with Instagram here and track our daily progress on our map below too.